Arts
Traditional Art is a favourite pass time of many residents of Coral Harbour.
Many crafts are hand made during the long winter nights.
Wall hangings are also very popular among visitors. Traditional wall hangings all tell a different story and are made with beautiful colors. Local animals and various symbols are often illustrated on wall hangings.
Inuit prints and drawings are also made by artists. Some crafts can be bought at Leonie's Craft Shop and at the Katudgevik Coop Store. Local artists also visit the Hotels regularly to meet with visitors and sell their crafts.
Carvings
Coral Harbour is well known for its local carvers. Some of these artists are known worldwide. The carvers are often seen working on their soapstone in their back yards.
Limestone is another popular stone which is carved because of its beautiful white color, great for Polar Bears.

Whale bones, narwhal tusks and caribou antlers can also be used for carvings.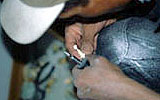 Jewellery
Coral Harbour is a great area for making jewellery from ivory. Because of the abundance of Walrus nearby, tusks are available for fine jewellery making.
Ivory rings are very popular and can be ordered directly from the carvers. Pendants and ear rings are also made according to visitor's wishes.
Popular items to carve for ear rings, rings and pendants include: belugas, seals, walrus, kamiks, ulus, drum dancers, polar bears, narwhals, inukshuks and other symbols and animals. Due to the Marine Mammal Protection Act, visitors to Coral Harbour should check on export restrictions to their respective countries before purchasing art made from marine mammal by-products.
Sewing
Traditional sewing has been passed on for generations and many residents of Coral Harbour still contribute to this art form.

Winter jackets are a popular item among visitors. More traditional items are also available, from amautiks, mitts, seal skin dolls to kamiks.
Local furs are used as well as more modern fabrics to make beautiful, colourful clothing. Traditional tents are also available for setting up outpost camps.
Traditional and modern clothing items can be purchased from:
Aggiq Seamstress, Natuk's Sewing and Ipiksout's sewing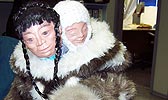 Doll-making
Doll making used to be the way that northern Canadian women taught their daughters how to cut, manipulate and sew hides and furs so as to make durable clothing for themselves and their families.
Now the tradition is being showcased internationally as well as practiced in northern communities. Coral Harbour is home to many world renowned Inuit traditional doll makers.
For more information, check the Businesses information.